Turning over a new leaf
Creating compost with your autumn leaves is easy and a win-win. The City of Ballarat is encouraging residents to play their part in our annual autumn leaf clean-up.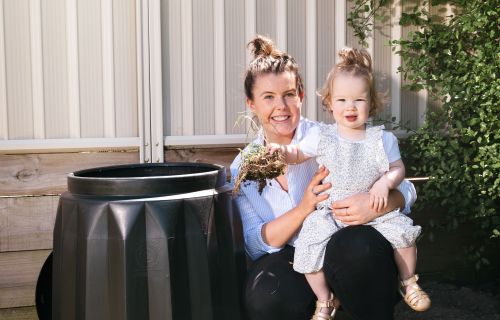 City of Ballarat Environmental Support Officer Emma Swift says there are simple ways everyone can do their bit to create a healthier environment.
"If you've been thinking about making your own compost, now is the time to start," she says.
"You can get great discounts on Compost Revolution products and you won't have to wait for the City of Ballarat's leaf collection service, which is in high demand during the season."
Through composting, you can turn your leaves into mulch to use on your garden.
Emma says turning organic waste, such as leaves, back into food for the soil will help improve the health of the soil and it also helps increase awareness of the actual volumes of waste that pass through your household.
"If you're not able to compost your leaves, you can simply put them in your green waste bin."
A huge job
We love autumn in Ballarat. Every year the city turns on a golden-hued show for all to enjoy.
But after the fun, the big clean-up begins.
The City of Ballarat's Street Cleaning team works 365 days of the year to help keep the city's streets clean.
Emma says during leaf season the heavy demand for the service means the turnaround time can be up to three weeks.
Emma encourages everyone to think about the benefits of composting.
"Doing your bit in your own backyard is an important theme that aligns with the City of Ballarat's circular economy framework, reducing the production and landfilling of organic waste and achieving greater sustainability," she says.
"Composting your own food scraps and leaves is a great example of a local circular economy in practice. We can create our own little circular economy right inside our backyard."
Making a difference
Emma says an increasing number of residents are working to achieve better waste management outcomes.
"People are more engaged than ever before – they're thinking more about waste and sustainability."
City of Ballarat Environmental Business and Technical Officer Ruby Ogier says a much more proactive approach is being taken in the environment and sustainability space, both as an organisation and as a community.
"The City of Ballarat delivers a range of programs that divert waste from landfill, from e-waste to green waste and glass as part of our Resource Recovery and Waste Management
Strategy 2018-22.
"Not only does waste have a big environmental impact but the cost of sending material to landfill is not sustainable.
"Everyone has a part to play and residents are looking for things they can do in their own backyard."
Do it yourself
Follow these steps to turn your autumn leaves into compost
Set up a compost bin in a sheltered spot with good drainage
Put a 30cm layer of leaves or dry garden scraps in the bottom
Start throwing in your fruit and veggie scraps
Top up with leaves or dry garden scraps
Mix occasionally
Need help with your leaf collection?
Rake your leaves into piles on your nature strip. Only include leaves from your nature strip. Send us your leaf collection request online or call Customer Service on 5320 5500.
Up to 40% off composting products
The City of Ballarat has teamed up with social enterprise Compost Revolution to offer discounted composting products. You will also find helpful tutorials on their website.
Order your discounted compost bin, worm farm or Bokashi bin online.
The City of Ballarat does not directly stock or sell any products and does not gain any income from the sale of these products.
Facts
150: The number of households that have purchased Compost Revolution products in Ballarat.
300: The number of composting products purchased.
40,000: The number of worms purchased and put to work in our worm farms.
Most popular Compost Revolution products
worm farms
bokashi bins
compost bins (especially pet poo composters)