Talking history at the Eureka Centre | ourballarat winter 2021
The Eureka Centre is teaching new generations right across Australia about the Eureka Stockade and stories of the women and men who risked their lives in the fight for miners' rights. The popular program has expanded to online education, a school holiday program and an app – taking our story of the past into the future.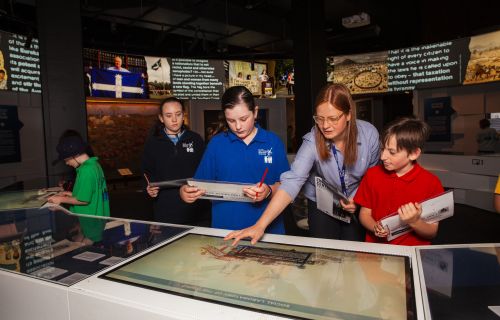 Before COVID-19, the Eureka Centre's school program was growing and on track to mark more than 9,000 students experiencing its programs each year, from schools Australia-wide.
When the pandemic hit and the Centre closed its doors, it embraced an opportunity to take its programs online and is now working to launch a permanent online learn-from-home program to bridge the distance for many schools.
Eureka Centre Education Officer Hermione Higgins says the online program means the Centre can now reach schools or students who may not have the resources to visit the Centre.
Hermione says the program delivers education in an interactive format that's proving popular with students.
"Kids can find concepts like the Eureka Rebellion, Civics and Citizenship difficult to understand. We've made sure our program is fun and engaging."
The Centre is now delivering educational experiences to more people than ever before.
It features a new school holiday program, introduced earlier this year, while its 'museum in a box' experience enables people to touch a piece of the past.
This handling collection features objects from the 1850s, such as a police truncheon, an early mechanical pencil, an ink bottle and opera glasses, enabling students to learn about a range of characters from the goldfields.
The Centre has also developed a new app which will allow it to go completely paperless for its on-site primary school program this year and for its complete range of school programs next year.
"This is a big step for our environmental impact but it also allows us to work with local developers, TechStudio, and leverage technology to update and revitalise our programs," Hermione says.
"Instead of students using paper workbooks, they can use the app. We can store their work and send it digitally to their teachers."
The Centre also invites the broader community to rediscover the Eureka story.
It holds monthly Talking History sessions, which are now livestreamed online, with research experts discussing a range of topics, from pioneering women artists in settler culture to men sewing on the goldfields.