On the right road | ourballarat autumn 2022
The City of Ballarat is embarking on a major investment to improve our 1,200 kilometres of sealed roads. Increased traffic and wet weather have damaged our road network. Our Sealed Roads team has been working throughout summer to repair our roads in preparation for the winter ahead.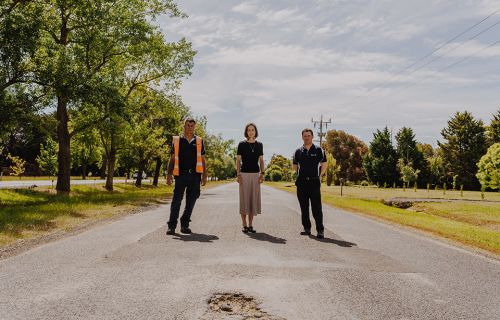 A road to the future
There are few things that generate more public enquiry or angst than potholes for any local government across Australia. The City of Ballarat is no different.
The constant challenge of potholes was compounded last year when Ballarat experienced a combination of increased traffic due to population growth and significant wet weather impacting local roads.
Increasing traffic loads lead to more wear and tear on our roads, resulting in cracks. Water seepage from rain widens the cracks, further weakening the road surface and creating potholes.
The City of Ballarat received 2,550 pothole enquiries in 2021. This was a 36 per cent increase on 2020 and an 18 per cent increase on 2019.
Last year, the City of Ballarat placed an increased focus on asset planning and re-programming our approach to repairing roads which is already leading to greater efficiencies.
City of Ballarat Director Infrastructure and Environment Bridget Wetherall says maintenance and renewal are the two key budget priorities for roads.
"Treatment of potholes requires a focus on immediate reactive repairs and a future focus on what is needed to prevent the problem appearing again in that section of road surface," she says.
"In 2021-2022, we have increased our two main preventative work budgets. Our asphalting and stabilisation patching contract has increased from $500,000 to $1.4 million and our re-seal program has increased from $1.4 million to $2 million.
"We also continue to invest in roads renewal, which includes surface treatment and reconstruction works, reducing the number of roads at the end of their useful life and limiting the contributing factors from creating the same problem again."
In the lead up to 2021, several drier years have hidden many potential road problems.
City of Ballarat Acting Executive Manager Operations Luke Ives says the approach to road repairs is set firmly on recognising the need to use an evidence-based approach with live data to help inform future decision-making.
"Sometimes in the past we have been quite reactive. We discover a pothole, we respond, patch and move on, only to be returning before the winter's out to repair the same hole," he says.
"The investment in tackling the bigger issues creating the pothole, while often more expensive at the time, is a more viable option in the long term.
"The City of Ballarat is working hard to deliver the most efficient and effective model to road repair and maintenance, by applying the right prevention strategy based on sound asset planning and programming."
Potholes are just a small part of the City of Ballarat's ongoing maintenance of the extensive network of streets and roads.
Bridget says the Sealed Roads team is clearing the backlog of potholes ahead of winter.
"Throughout summer, our hardworking roads team has been targeting known trouble spots and I am confident this prevention strategy will start to show some real benefits this winter," she says.
Repairs to roads
The City of Ballarat is encouraging residents to report any repairs needed to our roads.
To request repairs to a City of Ballarat road, visit forms.ballarat.vic.gov.au/reportissue or call Customer Service on 5320 5500.
Not all roads come under the management of the City of Ballarat.
Freeways and major arterial roads such as Sturt Street, Main Road, Creswick Road, Latrobe Street, Howitt Street, Albert Street and others are the responsibility of VicRoads. These roads can be found through searching 'Maps of declared roads' at vicroads.vic.gov.au.
City of Ballarat Council Plan Alignment
The projects, initiatives, and ideas in this article align with the following goals of the City of Ballarat Council Plan 2021-2025:
Goal 4
A city that conserves and enhances our natural and built assets