Our new Council era | ourballarat winter 2021
The City of Ballarat's new Council, with two new and seven returning Councillors, is working to develop key documents that will guide the work of Council over the next four years.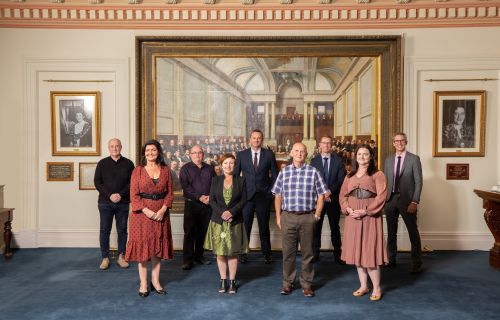 After an extensive community consultation process, Council will develop our Community Vision and Council Plan to help shape the plans for our city's future.
Improved community engagement will play an important role in Council's decision-making process going forward.
Our new Community Engagement Policy formalises Council's commitment to provide meaningful engagement opportunities for the entire community.
City of Ballarat Mayor Cr Daniel Moloney says better community engagement is vital for strengthening the relationship between the community and Council.
"We want our community to understand how they are informing decisions through participating in these opportunities." City of Ballarat Chief Executive Officer Evan King says while community engagement is a requirement under the Local Government Act 2020, the City of Ballarat is committed to achieving the highest standard of processes and practices to involve our community in shaping the future of Ballarat.
"Quality engagement leads to better informed Council decision-making and better outcomes for the entire community," he says. 
A new Community Vision and Council Plan
The Community Vision outlines the key elements of a liveable Ballarat that residents aspire to achieve by 2031.
The 2021-2025 Council Plan will form the steps Council will take over the coming four years to make that 10-year aspiration a reality.
Cr Moloney says the Council Plan will set a roadmap for what we would like to see delivered for our city.
"It will state very clearly what we as the nine elected Councillors will do to help our community grow and prosper, with a special focus on COVID-19 recovery," he says.
"Under the new Local Government Act, we will also deliver a 10-year Financial Plan, outlining how we will achieve financial sustainability in the longer term."
Ballarat – Our Future
It's been fantastic to see the Ballarat community get involved in this community engagement process through surveys, listening posts and community conversations.
We received thousands of ideas and thoughts through more than 1,900 responses. A community panel of residents then developed a list of recommendations for Council through a series of workshops.
The draft Community Vision, Council Plan and Financial Plan will be released soon. Follow us on Facebook for the latest updates.
Council's priority projects
As Council continues to look to the future growth of the city, we are also focusing our broader government advocacy efforts on once-in-a generation priority projects which will increase sustainability, improve transport connections and breathe new life into key sites and facilities.
Some of these projects include:
Ballarat Animal Shelter
Bakery Hill and Bridge Mall Urban Precinct Renewal
Duplication of Dyson Drive
Materials Recycling Facility
Ballarat Sports and Events Precinct, and
Planning for Ballarat's Growth Areas.