Older adults get physical
Ballarat's older residents can head to Mt Pleasant Reserve to try out the new seniors' exercise equipment.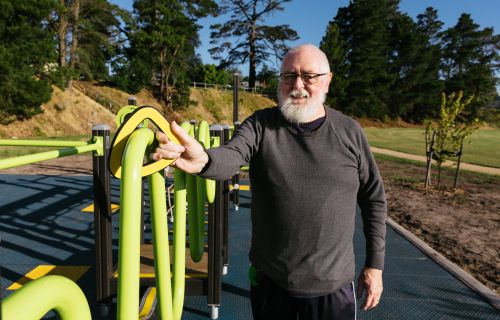 A first for regional Victoria, the equipment provides a great opportunity for older residents to engage in physical activity while enjoying being outdoors and being in the company of others.
City of Ballarat Active Ageing Executive Manager Ann Pitt says the equipment is already being welcomed by many in our community who want to maintain their health and physical strength.
"We want to encourage people of all ages to maintain healthy and active lives," she says.
"Outdoor activity is not only good for our physical and mental health, it also adds to the quality of our lives."
Free things to do in Ballarat this autumn
Play at MR Power Park
People of all ages and abilities will love this new nature-based play space in Sebastopol.
Explore the Buninyong Botanical Gardens
Explore this heritage-listed gem, its significant collection of trees and the small lake, known as The Gong.
Check out an exhibition
Discover what a COVID-19 superhero looks like in ceramicist Vipoo Srivilasa's exhibition on show at the Art Gallery of Ballarat until 18 April.