Libraries After Dark | ourballarat winter 2021
Tai chi, laughing yoga and open mic nights. These are just some of the fun activities taking place at the Sebastopol Library as part of the Libraries After Dark program. Each Thursday night, the library is open until 10pm and features a range of free activities for the entire community.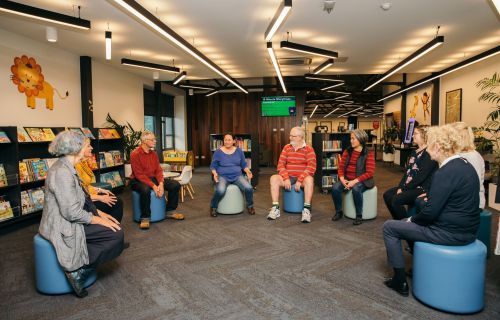 On any Thursday night, visit the Sebastopol Library and you'll discover a 'community lounge' in the heart of Sebastopol.
As part of the Libraries After Dark program, the library offers a range of recreational and social activities, learning programs and events plus access to full library services.
City of Ballarat Community Engagement and Partnerships Coordinator Lesley Morgan says about 60 people were turning up each week before COVID lockdowns.
"We had to hit the pause button but we're back," she says.
Lesley says the program is designed to appeal to a broad range of people.
"There's something for everyone, with activities ranging from tai chi to laughing yoga, poetry, storytelling, open mic nights, movie nights and much more. The author talks and giant board games have been very popular as have the sessions on scam watch and managing your money."
Lesley encourages community members to come along and try something from the great options available.
"Learn a new skill, make something crafty or take part in a book chat. You can also use any of our usual services, from browsing and borrowing to using the computers or Wi-Fi.
"Or come along and just sit and relax." 
Lesley says the program also aims to encourage the community to take advantage of what their local library provides.
"We want people of all ages and from all walks of life to feel comfortable.
"If libraries haven't been part of your life, you might be surprised at what's on offer."
A welcoming place for everyone
City of Ballarat Social Planning and Engagement Officer Belinda Hynes says the program aims to reduce social isolation.
"It's a great opportunity to try new activities and meet new people in a welcoming and safe environment."
Part of a Victorian Government initiative and a collaboration between the Sebastopol Library, the City of Ballarat Engaged Communities team and Child and Family Services (CAFS), the program is also designed to provide a safe alternative for people in the community affected by gambling.
It encourages people to make the switch from the gaming lounge to the library lounge.
CAFS Gamblers Help Community Engagement Officer John Bradshaw runs sessions on financial literacy designed to empower people to manage their money.
"Life is busy with lots of external pressures. People can come along and get some clear help on how to manage their money so they spend it on the things they need and make sure they have enough left over for a yoga class, a gym membership or
anything they love to do in their free time."
Regular patron Christine Hickson attends as many different sessions as she can and says it's a great way to meet different people. 
"There's so many interesting options and you always have good conversations. It's such a nice atmosphere in a comfortable space."
Christine says there are also little additions that make the activities feel special.
"There might be a nice vase of flowers on the table or some background music or light refreshments. For the letter writing activity there was beautiful stationery, nice pens and stamps. There was even an old manual typewriter you could use and rose petals to put in with your letter."
To discover more, contact the Sebastopol Library on 5335 7985 or follow Ballarat Libraries on Facebook.