Investing in the future of our Art Gallery | ourballarat Autumn 2022
The Art Gallery of Ballarat draws hundreds of thousands of visitors to our city each year. As our visitor economy recovers from the pandemic, the City of Ballarat is calling for fresh government investment in vital upgrades to support the gallery's irreplaceable, nationally significant collection, improve visitor experience and help attract major exhibitions.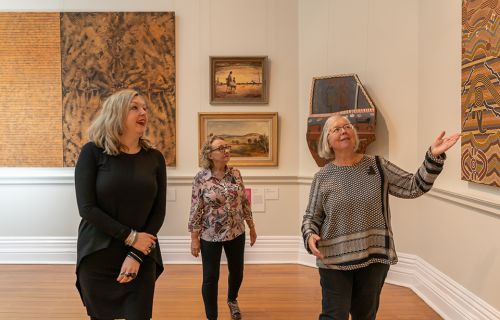 A gallery for all
Founded in 1884, the Art Gallery of Ballarat is the oldest and largest regional gallery in Australia.
It was established under the motto Not for Self, But For All — a vision that art should enrich and inspire the lives of everyone, not just the elite.
Gallery Director Louise Tegart says it's an idea that remains relevant 138 years later.
"This is a place for everybody. The way we've represented the collection, the types of programs we do, are about providing access points for anybody to come in," Louise says.
"Whether that's a visitor or somebody living in Ballarat. It's their place. It's here, it's free. It's open seven days a week."
The gallery is home to a remarkable collection of almost 11,000 works. It ranks among the most important in Australia.
Included in this extraordinary trove are strong collections of works related to Eureka, Australian impressionist painting, and the history of Ballarat.
The opportunity to take in the gallery's wider collection, along with regular feature exhibitions, attracts visitors to Ballarat from far and wide.
Pre-pandemic, the gallery would host more than 200,000 visitors each year, including more than 10,000 school children.
With between 60 and 70 per cent of visitors from outside Ballarat, and an economic impact of between $30 million and $40 million annually, the gallery plays a vital role in our city's visitor economy.
Funding call
The gallery's grand original building was opened by Alfred Deakin in 1890.
As the collection expanded and needs changed, extensions followed in the 1920s and 1980s.
Today, it's been just over 20 years since the gallery's exhibition space had its last major overhaul as part of the 2001 Camp Street redevelopment (the Annexe was opened in 2011).
The City of Ballarat, which operates the gallery, is advocating for funding from state or federal governments to deliver upgrades needed to bring the gallery building into line with contemporary standards.
Works proposed include modifying the building's skylights with LED panels and upgrading its humidification system.
This package of upgrades will improve visitor experience, enhance the capacity to display more of the gallery's collection, and increase opportunities to host touring exhibitions.
There are environmental and cost saving benefits too – reducing the loss of heat through skylight glass will mean savings in electricity and lower carbon emissions.
Fundamentally, it means that the gallery's formidable collection is available 'for all' for years to come.
"It's our role to be a custodian and ensure the works are here for future generations," Louise says.
Priority projects for advocacy
In the lead up to the Federal and Victorian elections the City of Ballarat has a list of priority projects that we are seeking funding for from state and federal governments.
For more information on these Tier 1 transformational projects, Tier 2 projects of municipality wide significance and Tier 3 projects of local significance,
visit www.ballarat.vic.gov.au/advocacy
Ballarat Now and Into the Future. 2022
The City of Ballarat is taking a partnership approach to advocating for projects across our municipality.
Together with eight other Ballarat organisations, we're calling on all sides of politics to support six transformational projects for our city and our region.
They'll expand healthcare options, bring innovation, jobs, investment, new business, new residents, tourists, students and sports lovers to our city.
You'll be able to read all about Ballarat Now and Into the Future. 2022 in our winter edition of ourballarat.
Follow Ballarat Council on Facebook for the latest updates.
City of Ballarat Council Plan Alignment
The projects, initiatives, and ideas in this article align with the following goals of the City of Ballarat Council Plan 2021-2025:
Goal 4.
A city that conserves and enhances our natural and built assets
Goal 6 
A Council that provides leadership and advocates for its community