Assistance Dog Relief Area
A new project in Ballarat's CBD is set to alleviate some of these stresses for Ballarat residents with guide dogs and other service dogs.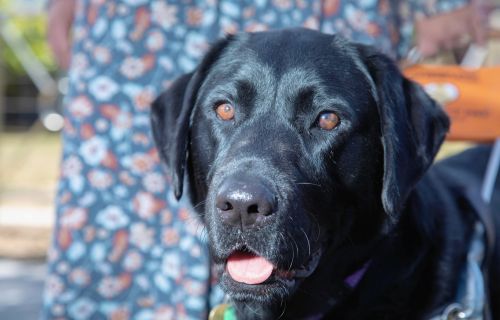 Project overview and timelines
Adjoining the Central Square Shopping Centre, this project will provide an accessible assistance dog relief station and art installation in the Ballarat CBD. This will support people with assistance and guide dogs to stay longer in the CBD, while also building a culture of inclusion through celebrating our community through art.
This includes two stages.
Project elements that will be delivered in Stage 1 include:
Assistance dog relief area – granitic sand and grass area, partially fenced, shade, seat, water fountain, bin nearby
Accessible paths to and from the venue
Signage explaining the facility
Project elements to be delivered in Stage 2 include:
Three artist facilitated community workshops to design a temporary art installation titled 'Inclusive Ballarat'  
The installation of the temporary art work
Stage 1 will be delivered in August/September 2023 and Stage 2 will be delivered by 31 December 2023.
The City of Ballarat has sought to commission a suitably experienced artist to facilitate three community workshops and produce a collaborative design that responds to the theme of 'Inclusive Ballarat'. 
Background​
This project is jointly funded between the City of Ballarat and DJPR – Regional Development Victoria (RDV), through the Living Local Regional Fund.
There are currently no designated publicly available assistance dog relief areas in Ballarat. Yet, the need for them has been highlighted for two years through the City of Ballarat Disability Advisory Committee. Broad community engagement activities in 2021 (Ballarat: Our Future) and in 2022 (Inclusive Ballarat), and specific engagement regarding the concept plan (2023) have demonstrated community support for this initiative.
City of Ballarat highlights the following priority populations within the Health and Wellbeing Plan and Inclusive Ballarat Framework – children and families, young people, older people, financially vulnerable people, women, Aboriginal and Torres Strait Islander peoples, LGBTIQA+ people, people from diverse cultural and religious backgrounds and people with disability.  
One key outcome for this project is to increase social cohesion within the community, through people being able to see themselves represented in local artwork. This project involves working with the community through two separate community workshops and a further combined workshop with all participants, to co-create a collaborative design responding to the theme of 'Inclusive Ballarat'.
Within the assistance dog relief area there will be a shelter with a seat, a partially fenced area using a metal fence, a drinking fountain, bin (nearby), paths, granitic sand, grass area and surrounding wall surfaces. Within the same parklet, there are other paths and two outdoor dining shelters with seating. The art installation will be temporary (2 years) and will be located using the assistance dog relief station environment and/ or elements, or adjoining areas.