Kicking goals in literacy | ourballarat winter 2022
The Bulldogs Read literacy program is encouraging primary school students to participate in reading and writing workshops, activities and events in partnership with the Western Bulldogs and City of Ballarat Libraries. Now in its seventh year, the program is kick-starting a love of literacy in Ballarat children.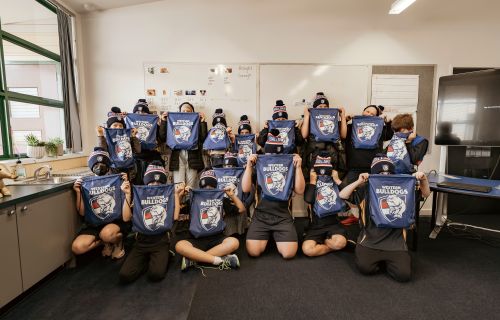 It's footy season. For some children, that means kicking the football, playing football and watching football.
For others, it's all this and much more – especially reading and writing. Each year students, spanning grades three to five, from several schools across Ballarat are encouraged to pick up books, read them, write reviews and share their reviews with others online.
Participants also have the opportunity to meet the players, attend football clinics and author talks, explore the Ballarat Library and attend Western Bulldogs matches.
The program is one of the cornerstones of the City of Ballarat's ongoing partnership with the Western Bulldogs.
More than a game
City of Ballarat Children's and Youth Librarian Julie Bull helped create the Bulldogs Read program.
Julie says this year's program features about 80 students from Canadian Lead Primary School, Yuille Park Community College, St Columba's School Ballarat and Ballarat Grammar.
"As a Children's Librarian, I am absolutely passionate about children's literacy," she says.
"If you can encourage children on a good path early on with their literacy, you're setting them up to be life-long learners."
Julie says there are no rules limiting what the students can read.
"They read what they feel comfortable with. The program provides them with a real–life immersion of literacy – it's reading and writing for a reason and their reviews are being published on the Bulldogs Read website.
"We once had Australian author Mem Fox see a student's review for one of her books. She reached out and ended up sending an autographed book to that child to thank them for writing such a lovely review.
"The rapport that we have with the schools and teachers is fantastic. The Western Bulldogs players also take time out to support the children and read their reviews – they really want the kids to do well."
Western Bulldogs Ballarat Engagement Manager Campbell Waring agrees.
"The Western Bulldogs are really proud to be involved in this unique program in Ballarat and hopefully, with the engagement of our activities and events for the students to attend, it assists in students' reading and writing capabilities."
Discovering libraries
The program also encourages children and their families to discover and explore all that our libraries have to offer.
"The students join the library, they'll be able to borrow and are shown how to use the catalogue so that they can then order books for themselves at home or at school," Julie says.
"For some students, it's the first time anyone in their family has ever been to the library so the child is leading the way.
"We have also had students whose parents and grandparents have started reading because their child participated in the program."
Red, white and blue
Late last year, the City of Ballarat signed a three-year partnership extension with the Western Bulldogs and the State Government.
The partnership will see two Toyota AFL Premiership Season matches played at MARS Stadium each season until the end of 2024.
The City of Ballarat also entered into a separate funding deal to secure an annual NAB AFL Women's home and away season match.
Along with Bulldogs Read, the partnership also includes community programs such as the holistic women's health program Daughters of the West, men's health program Sons of the West and a youth leadership project.
City of Ballarat Council Plan Alignment
The projects, initiatives, and ideas in this article align with the following goals of the City of Ballarat Council Plan 2021-2025:
Goal 2
A healthy, connected and inclusive community
Goal 6
A Council that provides leadership and advocates for its community